A beautiful idea taken from a blog I enjoy reading...
This wonderful gal writes a short letter to her husband and daughters every Sunday. What a rich treasure she has given to her family by doing this! She encouraged others to join in, and though I don't know if I will write every single Sunday or not, and don't know if I'll write to each family member each week or not, I think it is an excellent idea to intentionally stop to write to those we love. I'm sure there will be times these letters will make me laugh, times they will make me cry, and times they will make me do both.
But my loved ones will know of the pieces of my heart that they touched.
So here we go...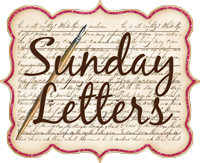 Dear Madi,
God has blessed us with the most beautiful weather the past few days, the kind where this Maryland girl knows that sometimes He just plain spoils us down here in the winter! We had a house full of teenage girls yesterday for a Valentine's tea party, and you had the time of your life! That dimple was deep and those big eyes were sparkling. I love your loving spirit and your zest for life. You have a genuine passion for people and inner kindness that I hope you never lose. I loved when our tea party went out into the sunshine to hula hoop! You've been doing a lot of that these days, and are getting better by the minute.
I think you are also getting taller by the minute, and I realize you are growing right before my eyes. The sand is falling fast my love, but I am so enjoying this season of life with you. In today's afternoon sunshine and breezes we went outside again and worked on your rollerblading, as we did yesterday after your party. You are also getting better at that by the minute! I think you are awesome at trying new things and working hard to learn. I am grateful to be by your side as you discover and grow.
Sometimes when we are having heart to hearts and I tell you how much I love you, you hug me and in a quiet voice say, "You love us, but God loves us even more." I am amazed by your insight. Tonight when you prayed towards the end you said, "And Lord, I just love you so much.
I just love you
." I am touched by your tenderness.
I pray you stay so tender towards the One who loves you
most
.
Lovingly,
Momma
Dear Trev,
You have been a bit of a handful these days!! And I can't blame it on the cough syrup anymore either! I know you are testing the waters a bit more as you get older, but even when we have those moments I still know what a sweet heart you have. (Oh, and losing the Wii seems to be a punishment that makes you shape up fast!) You are such a special kid, you just have this way of lighting up a room and making someone's day!
And you are a goofball, who despite my best efforts loves junk food. You told me that today in Sunday School you talked about food and had to draw your favorite. You said you drew doughnuts, which was no surprise to me! But Miss Debbie told me tonight that you also drew chocolate cake with chocolate frosting and chocolate ice cream.
We have some work to do
...
But not only do you
prefer
sugar when allowed to indulge, you also
dispense
sugar - just tonight you showered me in countless hugs and kisses. I held on a little tighter as I realized how tall you are getting. I am so grateful that you are open and warm and loving. You will not understand until much later what that means to the people who receive your warmth and love.
You are a gift wrapped up in mischievous grins and belly laughs and questions like,
"Can I pway a wittle Wii a wittle water?"
Thank you for being joy in my life. Can't wait to spend some time in the sunshine with you tomorrow when Madi goes to school!
Best Friends Forever,
Momma
Dear Jimmy,
You know the unexpected twists and turns our journey has taken us on. You know the mountains we've climbed, you know the puddles we've stepped in, you know the times we've made incredible new discoveries and times when it seemed something had surely been left off of the map.
I am grateful that we have been holding hands on the journey. I am squeezing your hand
tighter
as the years go by, and learning to expect the unexpected and thank God for His good and perfect gifts.
You are a gift.
Let's continue to be faithful together. Let's keep turning every blessing He pours out back to praise.
Here's my hand,
Jennifer