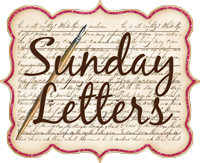 Dear Madi,
I will admit that part of me was sad to send you back to school after our fun together during spring break. But I was also happy for you to get back into your structured routine of learning... and happy you got to go to an art club after school one day this week!! This was a dream come true for you! My heart was full at your absolute joy from getting that extra hour in the art room to create! And as usual, all week our home has been filled with your little creations and expressions of creativity.
What color you add to our world!
Momma
Dear Trev,
You and I started off our week with a Mommy-Son Day since Daddy didn't take his usual Monday off. I got the most satisfaction as you ran around a park and tried to capture butterflies on your fingers in the morning sun and breezes. I had fun letting you pick a dinosaur from the $1 section at Michael's, and even more fun watching you point out things you thought your sister would like or could use at her upcoming birthday party. How thoughtful of you! "My Mad" you often call her, and how you love her. The bond you share is precious beyond words. The connection the four of us share deepens my life and is my greatest earthly treasure.
Praying that may always remain.
Momma
Dear Jimmy,
Can we go on a date night to Maggiano's every week?
Okay, so it's more like twice a year but seriously, how fun was that?! I find beauty in the ordinary with you, but also love the out of ordinary moments that add dimension and make memories!
I also loved serving with you this week in some different capacities than usual. I'm always amazed how many different avenues of ministry there are, and how God can use such variety to bring glory to His name and spread His love!
I am beyond thankful to serve with you.
Jennifer